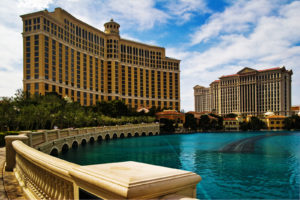 Tripps Travel Network is a top vacation provider, offering a high-class example to all the other members of the industry. All those hoping for an exciting choice for an upcoming trip should look no further than the notorious Sin City, home to the some of the world's most exciting action found within the famous Las Vegas Strip. Tripps Travel Network knows there are so many different shops, shows, delicious restaurants that offer amazing and decadent cuisine, truly something  that every type of traveler will enjoy no matter what type of activities they find to be fun. Here are some top suggestions on how to spend time while visiting.
For travelers who are hoping to do something free but still fun while in the area, Tripps Travel Network shares a stop to the Bellagio offers travelers a glimpse of the beautiful fountain show. Set to a variety of different music, this is truly a sight that must be seen and is something that goes on all day, offering many chances to stop by for a quick peek at a beautiful attraction. Tripps Travel Network also shares that travelers will love strolling down the strip and interacting with the different characters and taking photos, or perhaps heading down to Freemont Street to see Las Vegas's former Strip and more characters as well.
For all those hoping to catch in some of the beautiful views and sightseeing found in the Las Vegas area, specifically the famous Las Vegas Strip will enjoy the first pick. Tripps Travel Network shares one of the top attractions couples should consider visiting is known as the High Roller. One of the world's largest Ferris wheels can be found here, located at The Linq luxury hotel & casino. Scheduling a ride is always fun, couples should keep in mind the High Roller is  offering exclusive romantic packages like The Picnic in The Sky (wine and cheese during a ride in a private cabin) or the Sweetheart Brunch (pastries and champagne).
Tripps Travel Network shares that any of these activities will provide the type of excitement and entertainment a traveler is seeking while going on a vacation. These things make Las Vegas a top choice for any type of vacationer, so start planning a trip today in order to enjoy all this and more.
 For more information please visit https://www.trippstravelnetwork.com